Obituary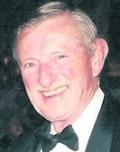 Richard Adolf Waterval
Naples, FL and Virginia Beach, VA
Richard A. Waterval of Naples, FL and Virginia Beach, VA passed away on March 16, 2014 after an extended illness. He was born at Old Sibley Hospital, Washington, DC on September 19, 1930 and lived in Falls Church, VA for 50 years after moving to Virginia Beach, VA and Naples, FL. Richard was the son of the late Adolf Waterval and Mildred (Bonnet) Waterval.
He is survived by his wife of 54 years, Karen (Leahey) Waterval; two sons, Mark A. Waterval, and his wife, Carylin, of Alexandria, VA and Richard K. Waterval, of Lake Worth, FL; a granddaughter, Lindsay Ann; and a grandson, Brendan Richard. He also leaves his brother, Kurt R. Waterval, of Columbia, MD.
He graduated from Falls Church High School and was proud of the fact that he received both his driver's license and pilot's license on his 16th birthday. He completed his undergraduate degree at the University of Maryland. He served in the USAF for 5 years as a B29 pilot stationed in Walker AFB, New Mexico and Anderson AFB, Guam. Following his military service, he obtained his law degree from the George Washington University Law School.
Richard began his private law practice in 1961 in Falls Church, VA, working with a variety of individual, community, and business clients until his retirement in 2003. He was a real estate developer, building his first apartment complex in 1962, the year after he completed law school.
In 1973, he and his wife built their beach house in Sandbridge Beach, VA, a destination for many memorable family gatherings. He enjoyed the fellowship and competition of tennis, bridge, and poker. He loved the challenge of surf fishing and hunting. As an aviation and history buff, in his retirement, Richard enjoyed being a docent at the Military Aviation Museum in Pungo, VA, eagerly expounding on the WWII planes exhibited there.
Richard was a member of St. William Catholic Church in Naples, FL and St. John the Apostle Catholic Church in Virginia Beach, VA. He was a member of St. John's Knights of Columbus Council 13467 and, in 2010, he became a Fourth Degree Knight of Columbus, Fr. Habet's Council #4632.
A memorial service is planned for May 12th, at 10:00 a.m., at St. John's in Virginia Beach, VA.
In lieu of flowers, the family requests that donations be made in Richard's name to St. John the Apostle Catholic School (Scholarship Fund), 1968-B Sandbridge Road, Virginia Beach, VA 23456.
For online condolences, please visit fullernaples.com.
~ Obituary courtesy of the Naples Daily News, originally published on Mar. 19, 2014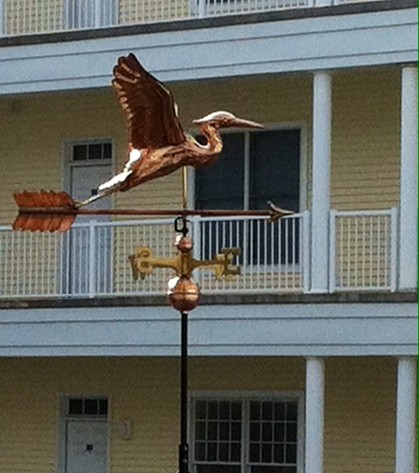 Our poolside Blue Heron weathervane (above) was donated by unit owner Karen Waterval in memory of her late husband Dick Waterval.